Benefit the Environment
Connect with Nature
Experience the beauty and functionality of the natural world.
Discover wildlife you have never seen before.
Lower Costs
Save money over traditional lawn and landscape care by reducing maintenance, chemical, gasoline, fertilizer and water costs.
Reduce Pollution
No fertilizer; less herbicides and pesticides.
No exhaust or noise from mowing.
Conserve Water
Native plants are drought tolerant.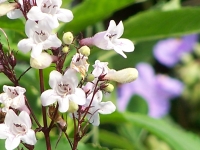 Save Energy
Native landscaping helps moderate temperatures (lower heating and cooling costs).
Decrease dependence on fossil fuels (less gasoline and pesticides; no fertilizer).
Absorb Stormwater
You and your neighbors benefit when rainwater is infiltrated on-site.
Your community benefits from reduced flooding.
The heartier root structures of meadow grasses help filter stormwater, absorb runoff, and prevent erosion better than traditional mowed turf grasses.
Corporate & Municipal Clients:
Improve Public Relations
Naturalizing is a win-win situation for you and the environment.
Reap the benefits of "going green", including points toward LEED certification.
Counteract global warming.
Lower greenhouse gas emissions.
Reduce stormwater fees.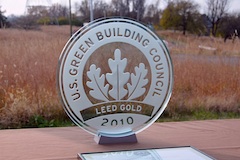 Lawn-to-meadow conversions (background) provide
points toward LEED certification.